UKPSA Official IPSC mini target x 100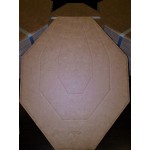 Exclusively available through Tripack Supplies. Official UKPSA mini target for use in competitions and practice sessions. Clearly perforated scoring zones, brown kraft face and white back for use as hard cover or no-shoot target.
These are the only targets manufactured in the UK and officially approved and branded by the United Kingdom Practical Shooting Association. Available in multiples of 100, can be bundled with UKPSA Official micro target.
Next day carriage charge £9.98 - Minimum single order 100 targets – maximum single order 600 targets. Please contact us to discuss carriage cost on orders of over 600 targets.
Code

IPSCMINI
---
Please use our live chat feature or send us an email to get a quote.